Are you looking to learn the trade of capturing memories, appreciating the details in the art of photography/videography, eager to learn the business aspects of it and evolve as a full fledged photographer/videographer? Then this place is for you. Welcome to Studio A!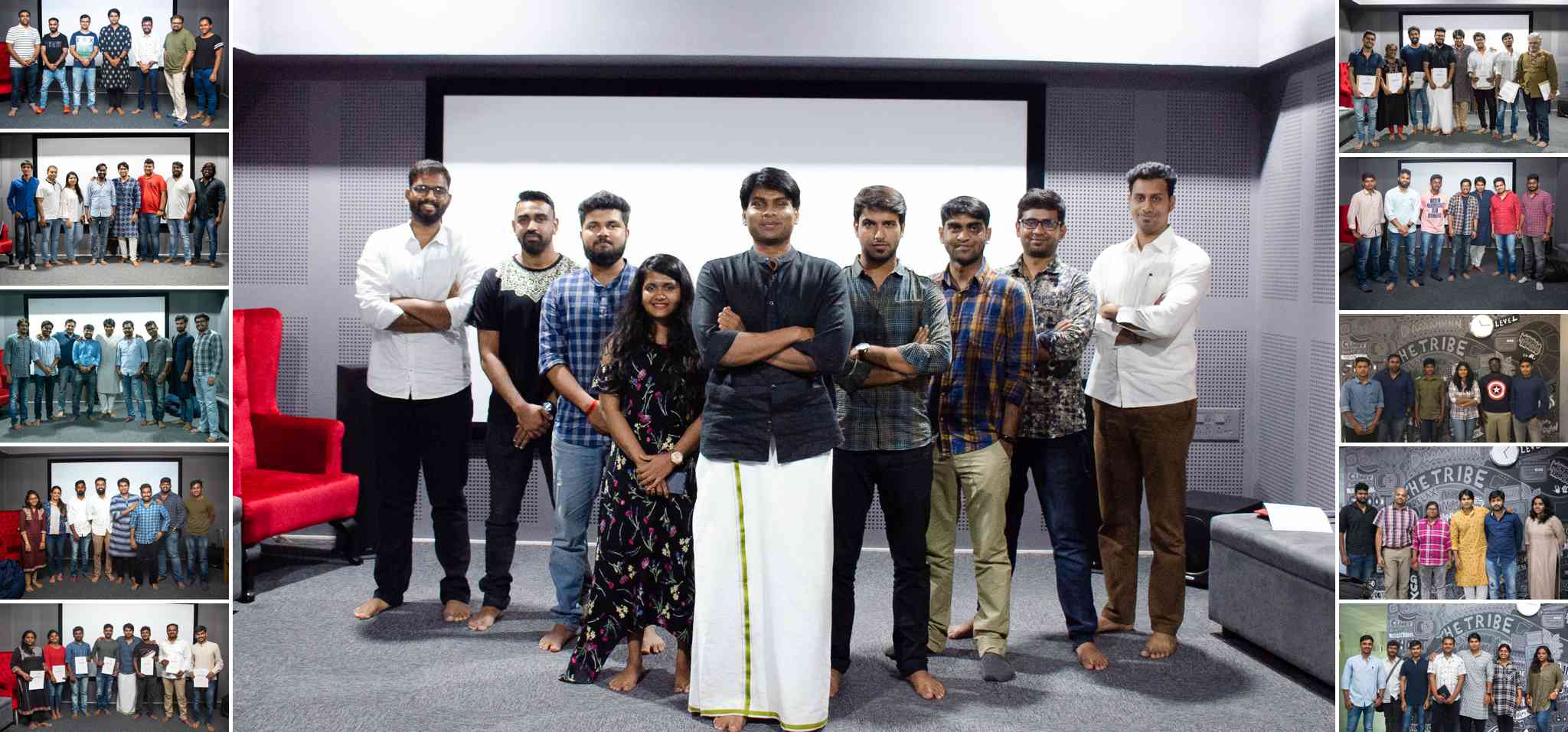 Our fantastic folks so far. Do you want to be in the next one?
---
This is an exclusive course where we enroll a select set of 5 students only. It involves 5 working days, with 7 hours of focused learning and execution/day.
DAY 01
Amar Ramesh - Founder / Photographer
The Journey
Previsualization in Wedding Photography.
Prewedding, Wedding & Post Wedding - approach
Camera Techniques
Importance of staying inspired
Impact of pursuing personal Projects
Creative Social Responsibility
DAY 02
Lakshmanan - Photographer
Understanding Light
Analyzing indoor/outdoor light scenarios
Art of Headshots
Practice
Gowslya - Album designer
The art and significance of albums
The Album making workflow and process
Album printing scenarios
Backup/Data management
DAY 03
Selva - Lead editor
Lightroom basics
Tools & Techniques
Practice
DAY 04
Israel - Lead editor / Designer
Photoshop basics
Photoshop in Wedding Photography
Retouching techniques
Masking types & techniques
Practice
DAY 05
Prem - Brand and content manager
Implementing Creativity
Branding
Content writing
Krihpa - Client and team head
Client Relationship Management
World of clients in wedding photography
Negotiation skills
Holistic role of Client relationship in Branding
Experience Marketing
Vivi Raaj / Aravind - Video team
Storytelling in Wedding films
Editing Techniques
Documentary filmmaking
---
I am photographer who seek for knowledge where ever I go. When I saw the Instagram story about 'Evolve with StudioA' I thought this is the right time and right place to learn about wedding photography.(had a thought that if I attend this course I can make pictures like Amar Ramesh). When I entered the studio Amar introduced us to his team and I realised why their images are so good.

Day 1: After introducing to his team we gathered in a room to start our first day which was talk by Amar Ramesh. He came up with so many valuable points for photography as well as life. Grooming yourself was his first point, getting ready for a wedding, wedding is the prime place to market your company, how smartly you can use Lightroom, how your Instagram account should be, dealing with clients, making some bold decisions . Important quote " if a man practices a particular thing for 10000hours he will become a master in it". ( vivekanandha coffee made my day) Day 2: Second day was super fun with Selva about Lightroom.I use the library in Lightroom just to import files. selva bro explained about the library for more than 5 hours. That was not enough. Day 3: Third day was with Israel bro he has super knowledge about photoshop. He made us to understand the photoshop. His quote "practice daily". In the second half, we had album designing session we had the chance to see studio A albums which was a true magic. Day 4: Fourth day was with two super humans the fearless photographer Lakshman bro and Vivi bro about natural lighting and studio strobes. Making headshots. Also, we had a short session with Kripa to how to deal with customers. Day 5: We had a great session vivi Raj how to make videos and edit it. He also made us to understand practicing daily make you confident during real-time assignments. As the final day was over we made lots of pictures with the team and Amar sir. Amar review us personally and he gave many tips. End of the 5 days I had a totally different perspective abt this business. Before knowing to make pictures, everyone should learn the lessons taught in STUDIO A.

Koushick - Coimbatore
The *intangible* benefits one gets out of this 5 day workshop is life changing. Simple acts but very powerful impact it creates. Just being there at Studio A for 5 days you observe the sorroundings you will get to know the *FAMILY* and thats their reason for success as well. The culture, the people there is No Boss attitude...its very clear its driven by a *Leader* Called *Amar Ramesh* true inspiration. We have learnt a lot of things from the people who are best in the Industry. Its clearly a TOP class standards. Take away from this workshop for me is NOT to invest on equipments buy new lights, modifiers and etc...but it is to *INVEST* time on *YOURSELF* , be obsessed and master the art of Photography, Art of editing and Content Writing, rest falls in place.

Sundaram Kumarappan - Bangalore
How am i before (*) and after(#) workshop

* since it is a 5 day workshop i was worried that what could i learn something which i just started a few days ago # " Good things never come Swiftly " * I was a person with the least communication skills who couldn't open up to a person # " We can only sell ourselves when we can say / show what we are # " Obsession is the only answer for getting out from any difficulty we are facing in a work " And coming to the TEAM STUDIO A it is, was, will always be A good Time to be between positive people. In fact i was inspired by every person in the team in the aspect of communication. Getting to the workshop Learnt things which we aren't found of and also things which we are doing good till now Thank you for every person of the team for hosting us at the workshop and Amar , Selvam, Lakshman, Israel, Vinod, Kausalya, kripha all of you were amazing respect to person and knowledge.

Prakash Gandhi - Hyderabad
Dear Amar and Team,

"It's been two weeks our since our workshop at Studio A and I can't tell you how much of an impact it's made on me. Now whenever I use a camera I "see" differently. I had never seen light like this before, so having someone who knows the secret nooks and crannies and would be able to take me to the best viewpoints was something I anticipated would enhance my experience. I would have been appreciative of just that, however, I was privileged to receive much more. I've been involved in photography in and out for 4 years now and was aware of many of the technical aspects of photography, however, your tips on workflow in the digital age really helped me understand the digital process and upgrade my image quality. More than the technical clues, however, were your creative concepts. It was great to have you one-on-one over my shoulder during the workshop, and you are still lingering there every time I shoot. Thanks also for taking me out of my comfort zone emotionally and physically and taking my photography to the edge!! I can't wait until I get to work with you again."

Anirudh - Bangalore
I'm writing this feedback after couple of weeks to really know the result and impact of this course, bcoz it's 5days full days course not like a day workshop where the impact will be for a day or few. I can see so much improvement. It was totally worth the money, what I paid, For that money I paid I learned in first day itself rest 4days was a bonus for me. Few ppl asked me are they teaching every basic detail like Aperture, shutter speed n all but it's not. They don't teach you how to take photo, they teach you how to be disciplined, how to run a business, work smart not work hard, so many things I learned, allowing me to finish my work smart n fast and saves so much time to improve my skills. No studio will allow you to interact to their employees to discuss how they work and tricks but Studio A did it. This course is not only for newbies, it's also for self taught photographer like me, who learn by making mistakes, it's an opportunity to correct your fundamentals and to learn to do things right. Amar and his teammates are every talented and helping ppl. I really Thank from the bottom of my heart to Studio A for giving me this opportunity. Looking forward to more courses

Arunbalaji - Chennai
---
You have to pay a fee of Rs.29,500 to enroll yourself in this course. The insights we offer and the skills we teach you come from years of hard work & experience that we have come through. So the momentum you gain is going to be priceless.
GUIDELINES:
For the 1st few days you will not touch the camera. Yup, you read it right
You will be introduced and inducted to detailed methods that we have learnt over years of hard work
It is mandatory that you stay away from your phones during the course hours (Ok, Occasional insta stories allowed)
We believe it is important to immerse yourself in the experience to make the best out of it
Bring your own laptop if you have one
Be mentally prepared to learn new things and do some hands on execution, rather than jockeying on what you already know
If you think you will be traveling out and shooting weddings or stories, you might be wrong
Most of the time you will be indoor, grounded to the basics of the art and science of photography/videography
These basics will make you a sound storyteller in the later stages. We've been there, done that. So invest trust on us, the curriculum and submit yourself
WHAT DO YOU BENEFIT FROM THIS COURSE?
You gain confidence with camera and editing techniques
You acquire the business acumen essential for starting up on your own
Good exposure to the latest trends in Photography/videography
An extensive insight into the world of wedding photography
Great contacts from our team who will be able to guide you at various stages of your career
You cover a solid ground on the vital components of photography and videography departments
A certificate of experience stating your accomplishment
---
Apply for our future batches.
Course Fee : Rs.29,500.